Why do we need HDMI Extenders? Many custom installations and home entertainment applications always seem to face the challenge of cable length. The client typically knows where he/she wants the displays, and it's common that they pick a location away from the video source. While HDMI cables are the most modern connectivity solutions today, the issue is HDMI cables are not reliable beyond 50 feet. Maintaining a signal with long HDMI cables can cause instability when it comes to an HDCP handshake or a blinking screen due to a weakened signal. So, what is the best solution to address the shortcomings of a long HDMI cable while keeping budget and ease of install in mind?
HDMI Extenders
The answer is an HDMI extender. An HDMI extender will allow the user to extend video and audio beyond a typical HDMI cable without losing signal quality. There are many types of HDMI extenders with different features currently in the market.
Today, we'd like to share our top 5 HDMI extenders that feature HDBaseT over CAT cables.
List: $400

The Key Digital KD-X422POA kit is a super slim HDMI/HDBaseT extender that uses a single CAT5e/6 cable. This kit can extend 4K at 24/25/30hz (4:4:4) and 60hz (4:2:0) signals using CAT5e/6 up to 125 ft. An additional 25ft can be reached using Key Digital's KD-CAT6STP1X cabling. Additionally, 1080p at 60hz and 3D resolutions can extend up to 230ft. Along with HDMI audio and video signals, the KD-X422POA offers IR and RS- 232 signals to manage remotely located devices. Audio de-embed ports on the transmitter unit assures external audio connectivity plus audio distribution systems and amplifiers. The kit is fully controllable by all RS-232 supported control systems through an open API. Key Digital offers a 3-year warranty.
Atlona AT-HDR-EX-70C-KIT
List: $600.00

The AT-HDR-EX-70C-KIT by Atlona is a high-performance HDMI extender kit for long range HDR formats. It can handle data rates up to 18Gpbs with HDCP 2.2 support up to 4K at 60hz 4:4:4. This extender is designed to provide visually lossless compression without latency at long distances. The AT-HDR-EX-70C-KIT can send HDMI, IR and RS-232 control signals up to 130ft (40 meters) for 4K HDR using CAT6a/7 cable. Furthermore, a distance of up to 230ft can be reached for 1080p video resolution. Utilizing Power-over-Ethernet (PoE), the transmitter can power the receiver, making it convinient for integration. Also, Atlona's award-winning 10-year limited product warranty alleviates any worries you may have.
BZB Gear BZB-EXH-50POC
List: $229
Making the cut is the affordale BZB-EXH-50POC from BZB Gear. This unit is capable of 4K at 60hz (4:4:4) with HDR support and data streaming at 18Gpbs up to 164ft. Certified HDMI 2.0 and HDCP 2.2, the BZB-EXH-50POC features POC (Power-over-Cable), making it convenient for installs. Also, a useful HDMI loopout port for a local TV, AV splitter, or switcher is included. The ability to power either the Transmitter or Receiver via CAT5e/6 is a valuable feature that makes the BZB-EXH-50POC a great choice for many applications.
A-Neu-Video ANI-HDR-70
List: $293.00
The A-Neu-Video ANI-HDR-70 offers signal transmission of 1080p up to 230ft and 4K HDR up to 130ft with a CAT6a/7 cable. The unit supports bi-directional IR control with visually lossless compression to enable HDR and 4K at 60hz (4:4:4) over HDBaseT. POC function is also capable with the ANI-HDR-70, powering either the sender or receiver. Additionally, this device is backed with a 3 year warranty.
Hall Research HBX
List: $560.50
The Hall Research HBX HDMI Extender pair includes a compact Transmitter and compliant Receiver. It can send HDMI, RS-232, IR, as well as Ethernet (100BaseT) through a single Cat6 cable up to 328 feet. The Extender System supports all PC and TV resolutions up to 4K at 30hz (4:4:4) as well as 4K at 60hz (4:2:0). The Transmitter and the Receiver both have a universal 5-volt power supply. Furthermore, the kit comes with IR emitter and IR detector cables. The Hall Research HBX is covered by a 3 year warranty.
You can read about discontinued products below.
Key Digital KD-CATHD250-POH
List: $480.00
First on the list is the KD-CATHD250-POH from Key Digital. The KD-CATHD250-POH can extend 1080p up to 250 feet & Ultra HD/4K up to 120 feet including 3D. This kit can power the receiver from the transmitter utilizing POH, which stands for Power over HDBaseT. Key Digital develops & manufactures top-tier solutions in video & control environments including home theater, conference room & digital signage systems. We like the fact that KD has a Limited 10 Year Warranty & a 100% Reliability Guarantee on their products. With that said, the KD-CATHD250-POH is our current hot seller, and our customers have not had any issues or complaints *crossing fingers*. In any case, we're positive that Key Digital has our back, and that gives us more confidence in this product.
List: $309.99
Second on our list of high-quality HDMI extenders is the AT-UHD-EX-70-2PS from Atlona Technologies. The AT-UHD-EX-70-2PS is an HDBaseT over category cable extender kit for HDMI transmission up to 230 feet at 1080p & 130 feet at 4K/UltraHD with a Cat6a/7 cable. This kit has front panel USB ports for easy upgrades & updates to firmware. This kit also supports PCM, Dolby, Digital & Digital Plus, Dolby True HD, Atmos, DTS Digital Surround & DTS-HD Master Audio for multi-channel surround sound applications. (link video here) Similar to Key Digital, Atlona ensures their products with a limited 10-year warranty and a one-year advanced replacement, in case the kit shuts down at that time – our clients love that, and so do we.
List: $299.00
The SB-6333x (KIT) from Shinybow makes our list of excellent HDMI extenders for its attractive price & features. The SB-6333x (KIT) can transmit HDMI, multi-channel audio, IR remote & RS-232 interface signals via CAT5e/6/6a cable up to 230 feet. Shinybow is well recognized in the industry for providing comprehensive & cost-efficient AV solutions for residential & commercial applications. Shinybow has done an excellent job supporting our sales teams & our clients, and that gives us all the assurance we need to include them on this list.
List: $235.00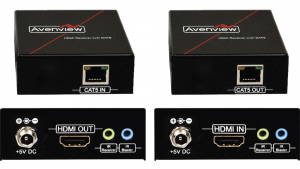 Next, on our list of top extenders is the HBT-C6IR-SET by Avenview. The HBT-C6IR-SET is an HDMI extender designed to extend video/audio over CAT5/6 up to 60 meters or about 200 feet & 4K up to 130 feet. This unit is also capable of bi-directional IR control signals & supports multi-channel audio formats including DTS-HD Master Audio, Dolby TrueHD & Dolby True HD. Avenview offers a 3-year warranty and competitive pricing on their products making them a go-to brand for HDMI extenders. Avenview made it on our list for their prompt response time when we are in need of their support and not because of their outstanding pricing, which in turn is a reason for them to be listed here.
List: $280.00
Last on our list is Magenta's HD-One DX. Magenta Research is a brand of tvONE, a long-time developer of high-performance video processing equipment. The HD-One DX by Magenta is a reliable HDMI extender delivering uncompressed HD video over a single Cat5e/6/7 cable to a distance of 328 feet or 100 meters. This unit supports 3D, 4K & Ultra HD video, multi-channel audio including Dolby TrueHD and DTS-HD Master Audio. We like this tvOne/Magenta product because we have had great experiences with tvONE/Magenta. On top of their 3-year warranty and attractive price, tvONE provides outstanding tech support, and that's speaking from our long relationship we've had with them.
This video will help  explain how to easily install an HDMI extender.
Our team of AV specialists here at BZB Express have a wealth of knowledge when it comes to the most reliable and robust HDMI extenders the AV market has to offer. Our team has been adept at using the AV components our partner manufacturers allow us to demo and use for training. We also attend yearly trade shows including InfoComm, CEDIA, NAB, ISE and the like to learn about new technology & the latest trends in our industry.
If you are shopping for an HDMI extender for your application, give us a call and speak with one of our experts for a free consultation at 888-660-2962. We'd love to hear and learn about your current project & challenges you're facing.