An SDI splitter takes an audio/video signal and "splits" it into many. SDI splitters distribute AV signals to multiple displays over long distances retaining maximum quality and providing minimal degradation. There are multiple SDI signals: 3G, 6G, and 12G. These are the bit rates of video. 3G transfers 3 Gbit/s of video data while 12G transfers 12 Gbit/s. 3G-SDI is good for 1080p signals while 6G- and 12G-SDI are ideal for 4K (4K30 and 4K60, respectively). Along with broadcasting, SDI and SDI Splitters are perfect for live events, studios, sports bars, houses of worship, and shopping centers.
SDI, or Serial Digital Interface, continues to evolve with applications in live events and broadcasting demanding higher bandwidth. SDI is widely adopted by the professional broadcasting industry transmitting unencrypted, uncompressed digital video signals in TV studios and facilities. It's also trusted at live events for its signal distribution lengths and rugged BNC connectors that interlock for a reliable connection that avoids any chance of disconnecting and loose cabling.
BZBGEAR® SDI Splitters
BZBGEAR has a series of SDI splitters fit for your applications depending on the amount of displays you need to split your AV signal to. They have 1×2 (BG-DA-12GS1X2), 1×4 (BG-DA-12GS1X4), and 1×8 (BG-DA-12GS1X8) versions.

The BG-DA-12GS series eliminates jitter and extends transmission distances  through separately buffered and re-clocked outputs. The SDI splitters provide automatic input cable equalization to 180 m (3G), 100 m (6G), or 70 m (12G). LED indicators show current video rate and signal lock while the interlocked power supply secures a solid connection every time.
SDI is the modern standard for professional HD and UHD signal delivery. Capable of transmitting high resolution audio and video far distances while employing durable, inexpensive cabling makes SDI a better choice than HDMI in professional applications.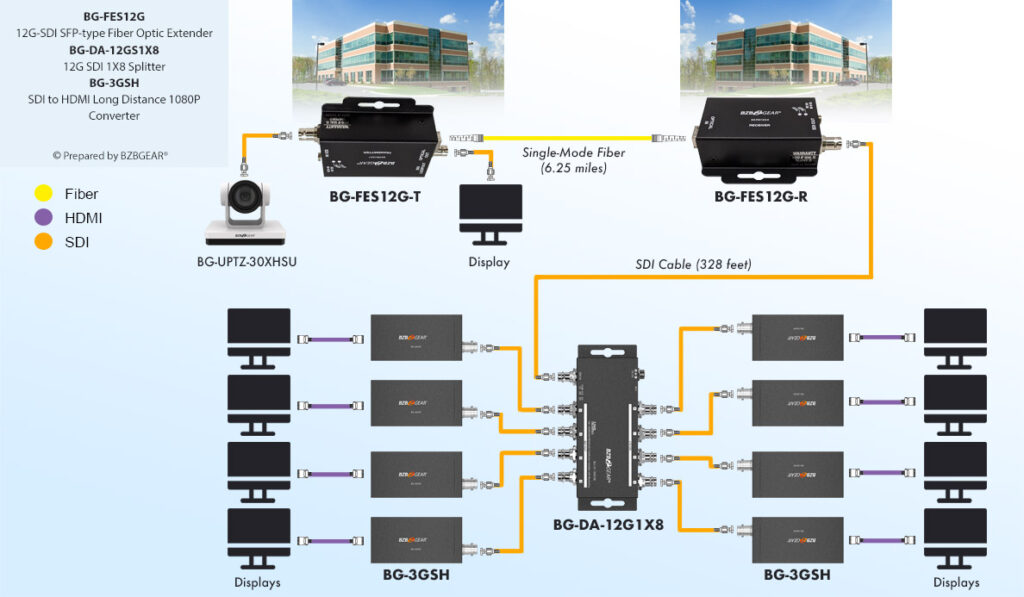 For more information, contact BZB Express at 1.888.660.2962 or email [email protected]. We provide full service for all your audiovisual needs. Browse our entire online catalog for countless possibilities regarding your project. Catch the buzz on our YouTube channel BZB TV for insightful demos and reviews on the latest AV gear. Please show your support and subscribe so you don't miss any future episodes!