Professional video switchers for film and TV cost upwards of tens of thousands of dollars. For the majority of people and applications, that's way out of budget and simply unnecessary for all that production power. BZBGEAR has a perfectly balanced video switcher providing broadcast-quality audio and video, yet is markedly affordable. Introducing the BG-HDVS42U.
BG-HDVS42U Overview
The BG-HDVS42U is a four-channel HDMI video switcher with two HDMI outputs along with a USB-C output for capturing and streaming on a Mac or PC. This compact video switch supports HDMI 1080p60 signals as the two HDMI outputs can be utilized as auxiliary outputs, choosing from the various input sources. The output formats can be downscaled or upscaled. All cameras, setting status, and menu can be monitored through the multiview output. The USB-C output allows users to capture and stream. Connecting the BG-HDVS42U to a computer (Windows, Mac OS, or Android) via the USB-C output allows users to incorporate software like OBS Studio or vMix to record and live stream.
The BG-HDVS42U has a downstream keyer (DSK) and an upstream keyer (USK). The USK allows layering and adding live video over other graphics and video sources, with the luma and chroma keys making it easy to key off green/blue/black background colors for virtual studio or live event applications. Exact color levels can be obtained with the gain, color picking, and clip key adjustments. The DSK allows overlaying of graphics like titles, logos, and bugs. Logo graphics can be added from a USB flash drive and resized and repositioned.
The BG-HDVS42U has multiple transition effects: MIX, DIP, and WIPE (9×2 patterns). The transition effect works wonders for switching by using AUTO and T-Bar, or transition without any effects with the CUT key. POP and PIP are supported and overlays two sub-screens to the PGM out with the ability to adjust said sub-screens. POP is used to get two screens of the same size overlay into the PGM out.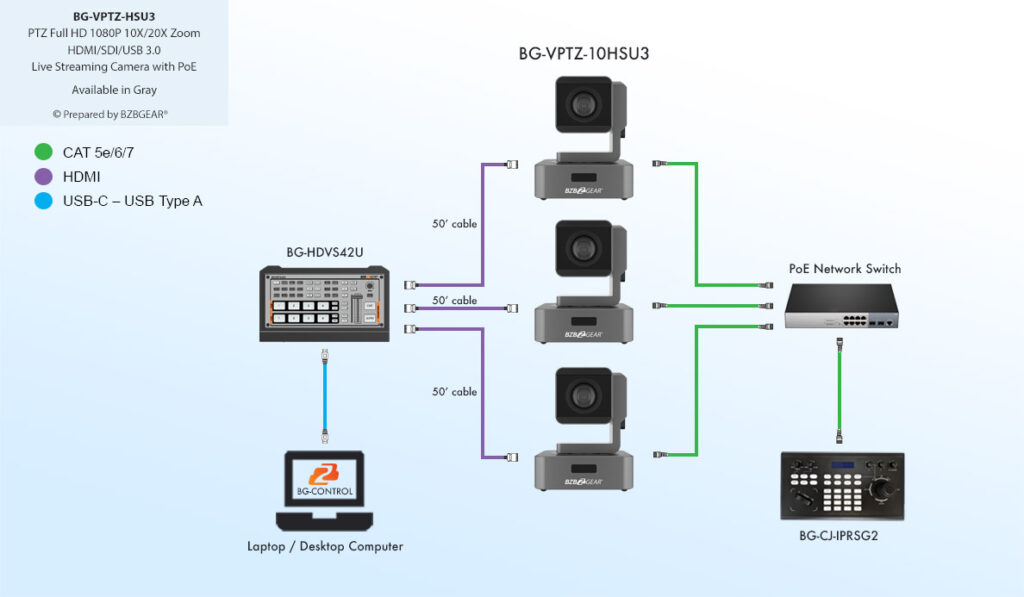 The BG-HDVS42U has a robust built-in media management with 49 preset patterns. Import images from a USB memory stick or capture and store screenshots from any of the input sources. Four HDMI embedded audio and two external analog audios (Mic and Line-level) can be mixed through the PGM out. The four HDMI embedded audios can be set to AFV mode. You can power on/off or adjust volume/audio delay independently. For total convenience, control the BG-HDVS42U and all its settings remotely with the free PC control software included.
The BG-HDVS42U video switcher is ideal for all live streaming setups consisting of multiple cameras such as education, houses of worship, concerts, seminars, sporting venues, and other live events. Check out our demo video below to see the BG-HDVS42U in action!
For more information, contact BZB Express at 1.888.660.2962 or email [email protected]. We provide full service for all your audiovisual needs. Browse our entire online catalog for countless possibilities regarding your project. Catch the buzz on our YouTube channel BZB TV for insightful demos and reviews on the latest AV gear. Please show your support and subscribe so you don't miss any future episodes!