The WyreStorm NetworkHD AV over IP platform unleashes the potential of scalable AV tailored solutions. Pro AV and custom install integrators can choose from three AV over IP technologies that best fit their specific application. Add on control options and easy to use software and you've got an industry leading AV over IP solution.
On our newest episode of BZB Express TV, our guys install and demo five brand AV over IP solutions, one of them being the Network HD AV over IP by Wyrestorm. You can watch the video below.
Installing and demoing the NetworkHD AV over IP system gave our team a taste of simplicity when it came to implemention. Let's take a closer look at the different options from Wyrestorm including the NetworkHD 200, 400, and 600 series. In addition, we cover the control options for managing the platform. 
NetworkHD 200 Series
Utilizing the same H.264 platform and fully compatible with the 100 Series, the 200 Series encoder supplements multi-format input support for DVI, HDMI, Component, and VGA. Also, converting the IP stream to HDMI to ensure source compatibility is simple with powerful decoder processing.
The NHD-220-RX multiview decoder with 4K scaling is capable of displaying up to eight simultaneous video feeds on a single 4K display. Also, users can select between single, dual and native 1080p quad view grid layouts among other configurations. The NHD-210-RX decoder offers exceptional matrix switching and video wall functionality. Up to a 10×10 is feasible when paired with an NHD-200-TX encoder for multi-format input transmissions of DVI, HDMI, Component and VGA including HDMI and analog audio breakout.
With a plethora of encoding and decoding options, the 200 Series offers the most extensive deployment potential for systems designers. Features such as matrix switching, video walls, multiview, and presentation switching with unified controller and configuration software makes the 200 Series ideal for home, retail, hospitality, and education spaces.  
NetworkHD 400 Series
Delivering visually lossless 4K UHD content with HDR and HDCP 2.2 support ensures compatibility with the latest UHD video sources. The NetworkHD 400 Series includes the NHD-400-TX encoder, NHD-400-RX decoder, and the NHD-400-TX-IW in wall encoder. Each unit has a built-in scaler for hassle-free mixing of the most recent 4K displays and 1080p screens. Also, JPEG 2000 encoding ensures distribution integrity and video latency of less than a single frame. The 400 Series is ideal for live events where presenting must be in sync with an AV system, like seminars and conferences.
Multichannel HDMI audio supporting formats such as Dolby Atmos and DTS-X and compatibility with AV receivers and audio processors offers an unlimited single-solution distribution option for home cinemas and dedicated home theatres. Discrete audio matrix functionality routes audio and video streams separately to provide flexibility in mixed AV deployments. What this interprets to is the potential for customizing installations to suit commercial boardrooms, bars, and restaurants.
NetworkHD 600 Series
The NetworkHD 600 Series is driven by SDVoE technology to maintain the most bandwidth-intensive video content. The NetworkHD 600 Series includes the NHD-600-TX encoder and NHD-600-RX decoder. Pushing 4K at 60fps 4:4:4 up to a pixel clock of 595MHz, the 600 Series delivers content through a flexible, modular IP network. Additionally, source-to-display time difference is eliminated with GenLock latency or zero frames. Also, the 600s' frame buffer technology secures switch command speeds of <100ms. 
The video output remains synchronized to the display during a switch, removing black images or stutter for a smooth transition between video sources and modes. Furthermore, the 600 Series possesses discrete RS-232 and infrared routing, a secondary audio channel, plus distribution of a separate 1GbE connection. The ability to individually route, embed and de-embed up to three independent audio streams is possible.
Its broad feature set indicates the 600 Series isn't only restricted to commercial applications either. Full adaptability with modern consumer source and display media, in-built 4K/2K scaling, and multichannel audio means tasteful homeowners can also have the highest picture and sound quality in every room.
NetworkHD Touch App
The NetworkHD Touch by WyreStorm is a free app for iPad. It enables live video preview and control of an entire NetworkHD AV over IP system for both single screens, multiview, and video wall. Indicated by the name, it's a touch-based control app that places control of a users' AV system at their fingertips. The active drag and drop control is fluid when selecting sources to displays, creating an instantly gratifying experience for the user.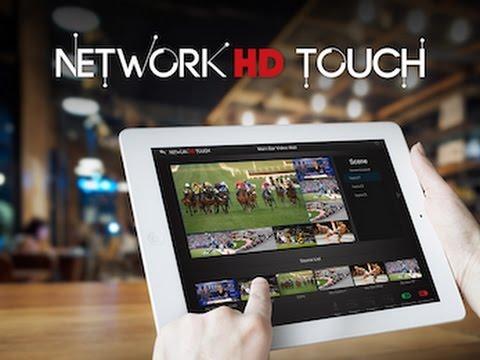 Touch is incredibly simple to set up thanks to configurations being automatically downloaded from the NetworkHD Controller. This ensures users get hands-on with their devices in a matter of minutes. Furthermore, video wall applications have never been more natural and seamless. Real-time changes to the actual video wall via drag and drop onto the iPad's virtual display placeholders is almost effortless.
Live previews of content selected on displays are featured on the iPad screen. Also, live video thumbnail previews of connected sources along the bottom of the screen offer easy access on one interface. Images are crystal clear and up on the screen with a flick of the finger. Best of all, the NetworkHD Touch integrates with the WyreStorm Enado AV control solution to enable control of the source devices themselves.
Enado Control with IR, RS-232, Ethernet, Sensor and Relay Connections
Enado by WyreStorm is an integrated hardware/software control solution that runs seamlessly. The control platform works with any web browser and operating system on any device. It grants easy system control for the client and instant access for an end-user with no site visit or license fee required. The ENA-001-010 features a host of connectivity options such as RS-323, IR, and GPIO. This opens up access to any IP control-based Network device and a wealth of online libraries for a multitude of device types.
Enado enables the end-user to connect their smartphone, tablet or laptop themselves with any browser, operating system, and screen size. With simple in-room QR code scanning for one-touch activation of room controls to get set-up in seconds.
Enado Mini IP Control Solution
Granting all the power of its bigger bro Enado, Enado ENA-MINI-010 is a smaller IP control system. Its intuitive and clear user interface offers friendly app-like operation. The more compact counterpart solves a multitude of problems for the installer but at a fraction of the cost. Exactly like its larger 1U sibling, just without the inputs and outputs, the Enado Mini is fully cross-platform compatible. Additionally, the Enado Mini can integrate with any web-enabled device, delivering an app-like experience without the constant app updates.
The Good and The Bad
Installing and demonstrating the NetworkHD AV over IP solution by Wyrestorm opened our eyes to the potential of AV over IP technology. We love that the system can do a 16×16 video wall, multi-channel audio including DTS-X and Dolby ATMOS. Furthermore, the 400 Series that we tested also supports HDR10 resolution, perfect for new TVs that support high dynamic range. There's also an HDMI loop out on the encoder for a local display.
The only quibble we have about the NetworkHD AV over IP products is that they're encoders/decoders seem larger compared to other brands. Something to take into consideration when installing or mounting these devices behind a TV or projector. Also, the NHD-TOUCH only supports Apple devices like iPads and iPhones. If full control is needed, adding on Enado Control or a 3rd-party control system will be necessary. You can watch our guys compare the WyreStorm Network HD platform with other brands in this video. 
Takeaway
Distribution of AV signals for home and commercial spaces with WyreStorm's NetworkHD AV over IP line is clear. Illustrating what it means by their tagline of the "Right Technology for the Right Application," WyreStorm's multi-platform NetworkHD systems offers pro AV and custom install integrators a choice of three separate AV over IP technologies that best fit their specific application. The NetworkHD AV over IP system by WyreStorm is currently available in the BZB Express catalog.