In today's business world, time is a critical factor when it comes to connecting to devices that assist employees and visitors with conferencing and the ability to present material professionally without downtime. Visitors typically are on a very tight schedule, and the last thing a business wants is to look unprofessional or unorganized, costing them and the other party time and money.
Wireless Presentation Switcher
There are different levels of a Wireless Presentation Switcher, offering a variety of connections for a multitude of devices. For this purpose, BZB Gear offers a flexible Wireless Presentation Switcher model BG-PS41-BYOD-4K. This unit is ideal for small businesses on a budget submitting the most common forms of interconnection. For an in-depth look at this fantastic device, our tech guru breaks down the unit in this short video.
The BG-PS41-BYOD-4K presentation switcher is plug and play, delivering a 4K@60Hz 4:4:4 high-quality signal at 18Gbps via HDMI port. It also has (2) USB-A 3.0 ports for microphones, cameras, (2) USB-B 3.0 Host Ports, and (1) USB-C 3.0 port connection delivering 4K@30Hz 4:4:4 as well a 60 watt / 3 amp charging capability. Make sure to use the USB-C Video Cable that supports 5Gbps. It will not work on a Standard Charging USB-C cable.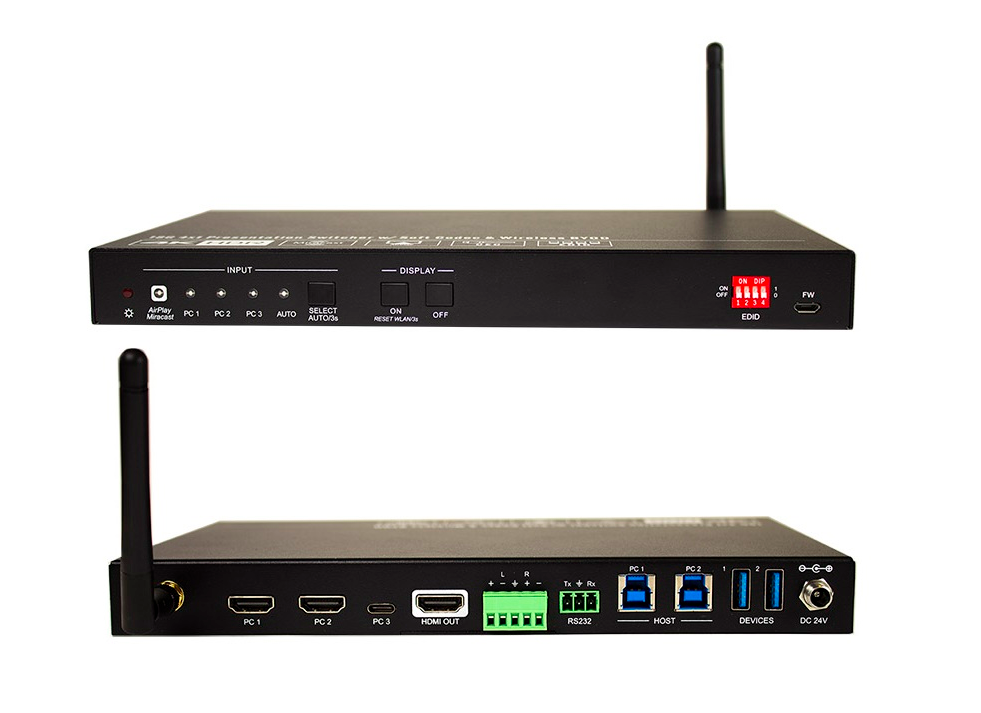 The BG-PS41-BYOD-4K covers on Audio as well, supporting Dolby Atmos, Dolby TrueHD, Dolby Digital Plus, Dolby Digital, DTS-HD Master Audio, DTS 5.1, 2 – 8Ch PCM. It also has Audio DE-Embedding via the 5-Pin L/R Audio Port. 
Plug and Play Presentation
Integrate the BG-PS41-BYOD-4K into conferencing rooms to demonstrate products, videos, music, pictures, Excel sheets, and PowerPoint presentations. Furthermore, wireless BYOD (Bring Your Own Device) capability via AirPlay and Miracast makes it simple to connect any device. Whether you own a laptop, tablet, smartphone, or iPad, displaying from such devices is easy. 
The BG-PS41-BYOD-4K presentation switcher is plug and play, delivering a 4K@60Hz 4:4:4 high-quality signal at 18Gbps via HDMI port. You can access the menu by typing in the IP address located on the bottom right corner to change or modify settings. Our team created a short video on how to install the BG-PS41-BYOD-4K in less than 5 minutes. The video is below. 
All in All
We hope we've shed light on how uncomplicated it is to connect the BG-PS41-BYOD-4K presentation switcher. Whether you're an expert in IT or an individual that has no installation experience, the device eliminates the guesswork for easy setup. Accompanied by budget-friendly cost, the BG-PS41-BYOD-4K is perfect for any small business searching for a professional solution to enhance and save time during meetings. Our BZB Express experts are ready to answer any of your questions about the BG-PS41-BYOD-4K over the phone, email, or chat.