Wireless earbuds take audio convenience to the next level with their tiny sleek design. Apple has dominated the market for wireless earbuds for the last couple of years since they unveiled the 1st generation of AirPods in 2016. Since then, a plethora of new models promising to deliver better sound, performance, and battery life have also hit the market.
Curious minds have visited the Amazon catalog to find comparable alternatives to Apple's Airpods. There are loads of wireless earbuds out there, but are they worth it? If you're going to spend over $150 for wireless earbuds that are easy to lose, they better be worth it. The best wireless earbuds should feel comfortable and perform at an optimum level in all types of environments. Also, charging capability and battery life are other things to factor. Lastly, make sure to purchase from a store with a good return policy.
So what are the best wireless earbuds in 2020?
Best All-Around Wireless Earbuds,
Apple AirPods Pro
We can't talk about the best wireless earbuds without mentioning Apple's AirPods Pro. Apple did start the whole wireless earbud rage back in 2016, and they continue to vanguard, especially for iPhone users. Although their price at $249 may cause a sticker shock, the new AirPods Pro is a premium wireless earbuds designed to deliver an excellent user experience.
From the moment you place the earbuds in your ear, you can feel the comfort and quality in design from any other earbud. The new in-ear design with soft, pliant silicone tips fit securely to create a natural feel and a perfect seal. Also, on the outside of each earbud are vents to remove the pressure feeling of being closed in or underwater.
They don't just look cool; they are also high-performing earphones that offer clear and crisp sound, improved bass performance, automatic equalization with advanced DSP, and outstanding call quality sound. Furthermore, Apple continues to innovate and elevate the user experience with an active noise canceling feature. The Airpods Pro is considered the second-best in the market for noise reduction only behind the next earbud we have on this list.
Best Sound Quality,
Sony WF-1000XM3
Sony was fashionably late to the wireless earbuds game, but its new WF-1000XM3 model knows how to make an entrance. If sound quality is the primary objective, these earbuds are the best compared to other high-performing brands, including Beats, Bang & Olufsen, and Sennheiser. As mentioned, these wireless earbuds have active noise-canceling technology to reduce ambient noise.
A dedicated active noise-canceling processor quiets everything to an uncanny degree. Moreover is a feature that allows you to augment outside noise by holding your finger down on the left earbud. Also, with 6 hours of battery life on their own and 18 more with the case, the WF-1000XM3 offers sound quality to justify its cost at $230.
The only shortcoming is the WF-1000XM3 aren't waterproof or sweatproof earbuds. If you're looking for earbuds to use at the gym or for running, stay away from this model. Let's segue to some earbuds that are best for activities with full waterproof potential.
Best For Workouts, Apple Beats Powerbeats Pro
Beats have been a longtime favorite for great headphones. Since Apple acquired Beats, you get the best of both worlds. Apple Powerbeats Pro is brawnier than all the wireless earbuds on this list. The design is made to fit securely during any active sweaty workout. They'll stay protected with a water-resistance rating of IPX4. The $250 Powerbeats Pro has the latest Apple technology. It delivers impressive sound that fits comfortably and secures with its flexible over the ear hook.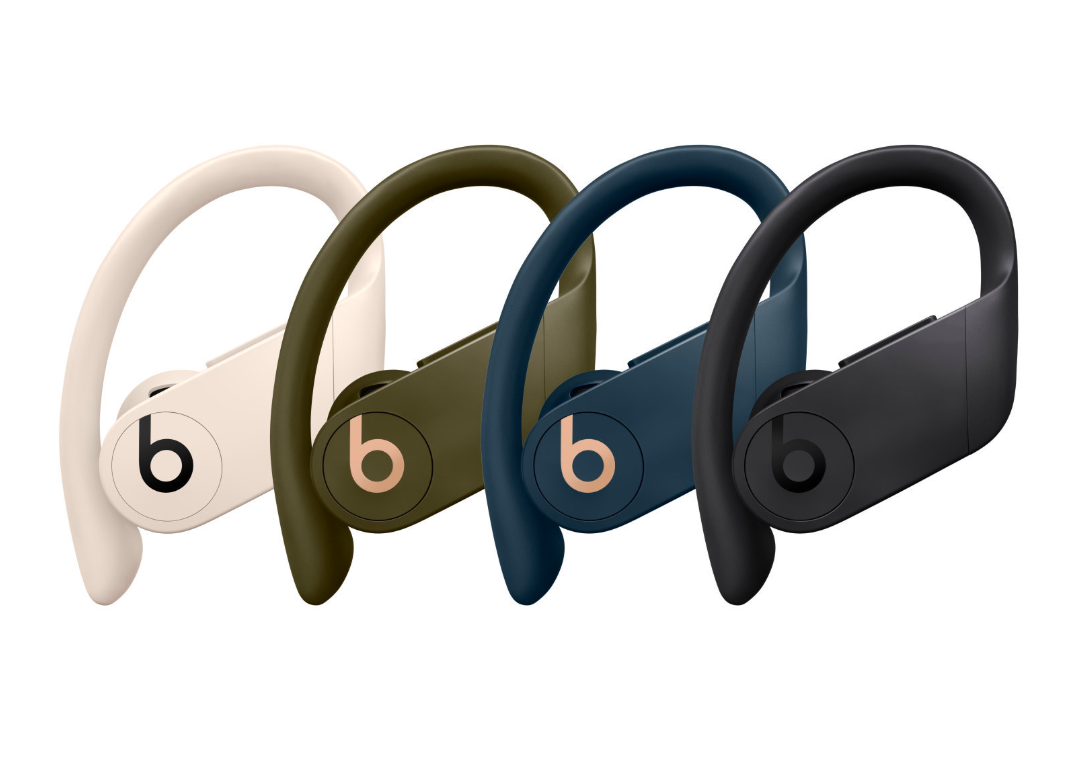 Apple's Powerbeats Pro is able to squeeze out 9 hours of battery life and 18 more with the case. The redesigned contours prevent excess sweat from pooling and help create channels for splashes or perspiration. These wireless earbuds are truly ideal for athletes and anyone that loves to workout. Furthermore, Beats thoughtfully put controls on both earbuds. This makes it easy to control volume, play, pause, skip tracks with either hand. Additionally, Apple device users can take advantage of the same H1 chip found in Apple Airpods Pro for, "Hey Siri" support.
When it comes to sound, the Powerbeats Pro features a dynamic sound that Beats headphones are known for. Although the noise-canceling feature is not as superior as Sony's WF-1000XM3 model, the mids and treble are clear, minimizing distortion with more range and impactful bass. The Powerbeats Pro is clearly designed for active users that are searching for quality sound, sweatproof resistance, a snug fit, and very long battery life.
Best for Running, Jaybird Vista
Unlike the previous earbuds, the Jaybird Vista is fully waterproof designed for the sporty individual. These earbuds we're first introduced as Jaybird Run workout headphones back in 2017. However, performance issues kept them away from the competition. Currently, Jaybird Vista offers a new design, including performance improvements, and a longer battery life that makes it a top tier product. The Jaybird Vista also has a heavy price tag at $180, but the enhancements truly make it a stand-out product that is competitive with the other products on this list.
Best for Music Lovers, Jabra Elite 75t
The Jabra Elite 75T is quickly positioning itself as a top wireless earbud at its class that delivers amazing sound quality, extended battery life, and a sleek design under $200. The Elite 75Ts smaller size and USB-C charging are significant upgrades to its predecessor, the Elite 65Ts. Although it doesn't have noise-canceling and the form factor may be small, it delivers big sound and impressive bass, and dynamic ranges as long as you get a tight seal.
For the hardcore audiophiles that demand perfection, the Jabra Elite 75T has an in-app equalizer and customization features that will take your listening experience to new levels. The 75T is compact and comfortable, with gel tips that slide easily into the ear. This creates a secure seal around the ear canal, reducing ambient noise. For regular control, the earbuds have two physical buttons with multi-functions streamlined into the earbuds for easy access. The Jabra Elite 75T provides 7.5 hours of battery life, a notch better than most wireless earbuds in its class. The Jabra Elite 75T is a slightly cheaper alternative to the Apple Airpods Pro. It's ideal for someone that owns an Android who wants top-of-the-line sound quality and comfort.
Best Budget-Friendly Earbuds, NS Series 10
The Northside Solutions NS Series 10 wireless earbuds are a recent 2020 addition to the wireless earbuds arena. Although late in the game, they are already making a name for themselves. Delivering high-quality sound CVC noise cancellation, and the better than expected battery life make the NS Series 10 checking out, especially when it's priced under $50. The design and build quality are solid with a nice premium feel. Under the hood, the NS Series 10 has a specially designed double moving coil eight-millimeter horn that delivers great sound quality for better than expected tonal range and clarity.
The earbuds are quite comfortable delivering immersive sound at moderate volumes. The NS Series 10 provides an overall pleasant listening experience that would satisfy most skeptics. Although the NS Series 10 does not provide as many features compared to premium earbuds, with what it does have, including 6 hours of continuous playback, it delivers solidly at a budget-friendly price.