4K HDMI extender system kits are a popular commodity in the AV market. They are perfect for many applications and are great solutions for sending video signals to long distances without losing quality. However, HDMI extenders aren't just for transmitting video signals. The latest generation of HDMI extenders comes with first-class features aimed at high-end applications. 
Your project may require compatibility with 4K and HDR resolution. For audio, you may want ARC (audio return channel) compatibility or separate sound to work with a current AV system. Your system may seek a control interface that controls a broad AV system. Today, we'll look at three HDMI extenders that support the latest video resolutions, a multitude of audio formats, and other advanced features that add value to justify their cost. If the extra features aren't necessary for your application, the video below targets a selection of budget-friendly HDMI extenders. 
Atlona's High-End 4K HDMI Extender System
First on the list is the Atlona AT-HDR-EX-100CEA-KIT 4K HDMI extender system, part of the Atlona EX Series of HDBaseT extenders. This unit is ideal for applications requiring the latest 4K and HDR sources and displays. The kit supports all resolutions, audio, and color space formats compatible in the HDMI 2.0b spec, including passing metadata for HDR content. Also, the HDR-EX-100CEA-KIT supports 4K HDR10 @60 Hz and Dolby Vision @30Hz.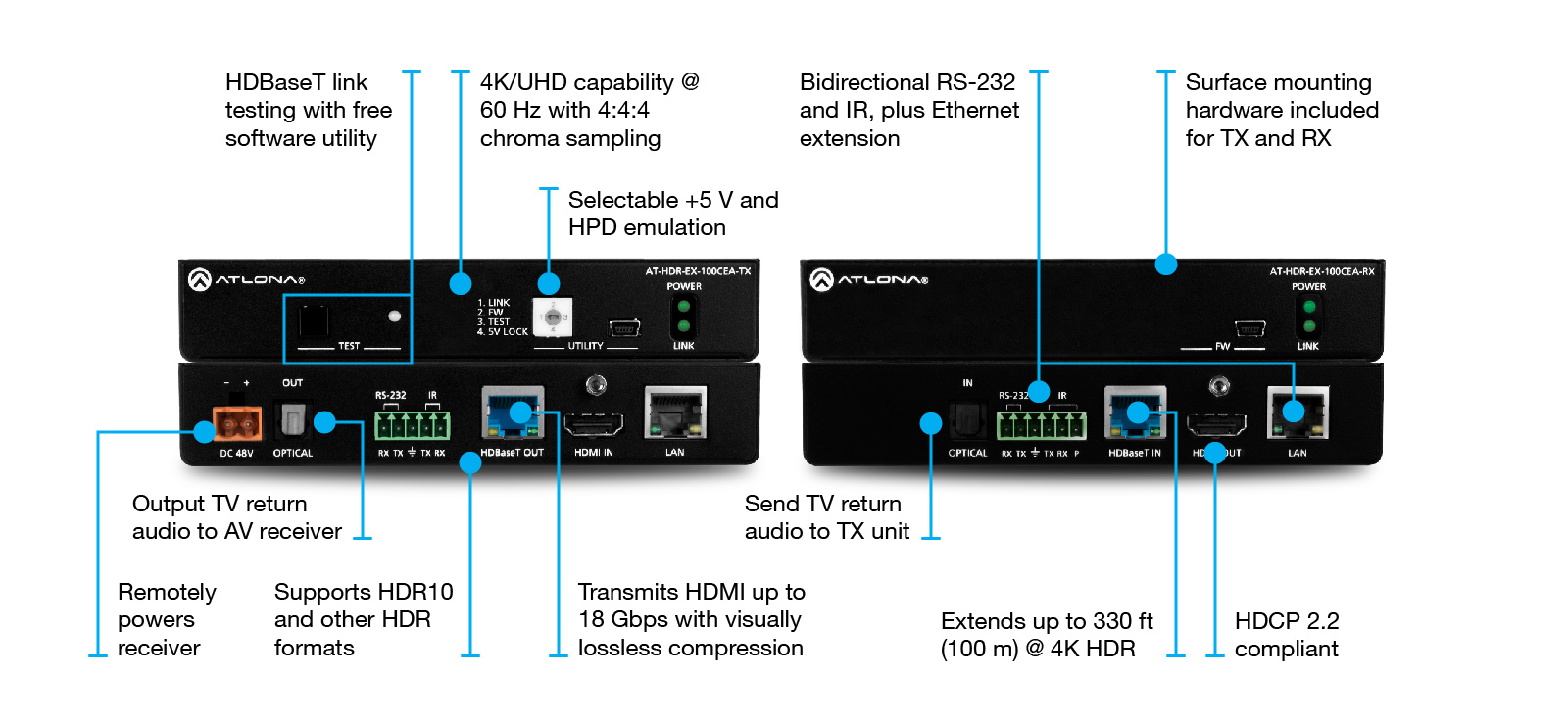 When it comes to HDR and [email protected] 4:4:4 video, the data rates required exceed 10Gbps and up to 18Gbps. This poses a significant challenge for extending signals via HDBaseT. The HDR-EX-100CEA-KIT provides the answer with visually lossless video compression technology that applies extremely light compression with no latency. The device permits transmission of HDR and [email protected] 4:4:4 over a single CAT cable while ensuring pristine image quality.
The Atlona AT-HDR-EX-100CEA-KIT is ideal for systems with emerging 4K and HDR sources devices such as Ultra-HD Blu-ray players, TVs, and projectors. Additionally, it's great for home cinema, TV showrooms, and professional AV applications where highly detailed 4K graphics presentations for visualization, 3D renderings, and simulations are required. The AT-HDR-EX-100CEA-KIT accurately demonstrates the quality and appeal of 4K and HDR programming.
AVPro Edge's Top-Grade 4K HDMI Extender Kit
The professional AC-EX100-444-KIT-GEN2 is a progressive 4K60 4:4:4, HDR, and 18Gbps upheld HDBaseT extender over a single CAT cable. AVPro Edge introduces its 18Gbps over copper extender, which utilizes the ICT (Invisible Compression Technology). ICT effortlessly conveys a lossless high transfer speed 4K HDR signal with help for all signals up to 18Gbps. Furthermore, the kit offers profound Color and HDR metadata that remain flawless, making the transmission free of infractions up to 100m (330ft.). 
ICT's unique innovation can pack high data transmission HDMI signals into an increasingly reasonable size to fit through a CAT Cable "pipe." The ICT framework capacity offered by this gadget can deal with all kinds of HDR, including 4:2:0, 4:2:2, and 4:4:4. as well as signal up to 18Gbps and 4K 60Hz 4:4:4. The engineering of the ICT enables it to be perfect and compatible with all chroma subsampling types, color shade spaces, and HDMI Deep Color up to 12 Bit. What makes ICT extraordinary is it can save HDR Metadata and color data and profundity in its full, unique, trustworthiness. 
Keyboard Video Mouse
The USB expansion makes port make this unit a favored KVM (Keyboard Video Mouse) arrangement. On the Transmitter gadget interface, a USB-A association from a PC to the transmitter communicates close by the sound and video information on the classification link. On the receiver portion, you can interface your mouse or console and control the PC up to 100 meters away. This feature is ideal for schools, site workers, drafting houses, and building development organizations.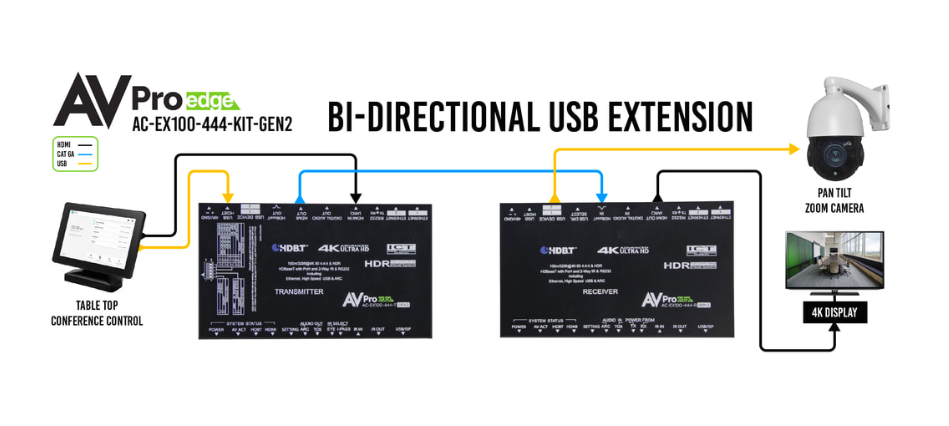 The AC-EX100-444-KIT-GEN2 also has a scaling circuit incorporated with the transmitter. The scaler can scale 4K (and HDR) down to 1080P. Users can utilize the extender to downscale where you have to, and not the whole framework. The AC-EX100-444-KIT-GEN2 does the challenging work, disposing of the need to include extra boxes.
The kit features complete EDID management. Its robust EDID control enables users to deal with the source gadget requiring explicit video resolutions and sound codecs. Also, IR and RS232 management are bidirectional and can control the sources from the sinks or the other way around. 
The Audio Return Channel in HDMI 1.4 and 2.0 empowers a TV, by means of a solitary HDMI link or Toslink, to send sound information "upstream" to an A/V recipient or encompass sound controller, the extender will proceed with the upstream sound right to the transmitter. From there, it will associate by means of HDMI ARC or Toslink.
Wyrestorm's Ultra Slim First-Class HDR Extender System
Last on our list of first-class HDMI extenders is the WyreStorm EX-70-H2X with HDMI Loop Out and 2-way power. This unit delivers dynamic compression outputting [email protected] 4:4:4, HDR-10, and HLG. These signals are transmitted over HDBaseT without latency. On top of supporting the latest HDR standards, the kit is also compatible with Dolby Vision up to 30Hz and all VESA resolutions in the 2.0 spec. 
The EX-70-H2X HDMI extender kit is equipped with an HDMI Loop out to cascade signals to many locations with the use of additional extenders or switchers. This feature works out great for applications requiring a larger scale of distribution. Also, a bonus feature is the VLC (Variable Lossless Compression) chipset in the extender to max out HDMI 2.0. This feature allows seamless support of the next shift in content technology: 4K/60 HDR-10 & HLG and even up to 4:4:4.
The WyreStorm EX-70-H2X is a deluxe HDBaseT HDMI extender that is breaking boundaries. Not only does it support the latest HDR video formats, HD audio and control, but also Ethernet pass-through and two way power. This convenience allows the unit to be powered at either end, alleviating nuisance when installing. Furthermore, the source loop-out on the sender provides a number of options for system expansion. The signal can be cascaded to additional screens, AV switchers, or part of a broader system. 
The demand for extenders applies towards many environments. A simple residential setting may only need video and audio extension. However, a boardroom scenario may require more sophisticated features, additional inputs, and daisy chain through multiple devices. We welcome you to reach out for any questions you may have via online chat at bzbexpress.com or call us at 888.660.3962 for consultation. Our experts are ready to take on any AV challenge you may have.