A video wall is a display design consisting of multiple screens or TVs that tile together to form one large image. While the display is undoubtedly the most visible, its just one piece of the spine. The backbone to a video wall system is a video wall controller. Projection screens, laser phosphor displays, LCD and LED panels are standard displays useful for video walls.
If you've ever questioned the technology behind a video wall, how each screen communicates to act as a single display. Basically, how it all works together? That's precisely what we'll be covering today.
Our team created a video of the top four video wall controllers in the BZB Express line. The video is below if you're more inclined to watch, otherwise, keep reading. We'll break down each product in detail.
Avenview HDM2-PROWALL-T4K
Let's start with the Avenview HDM2-PROWALL-T4K. One of the first video wall processors to accept TRUE [email protected] from a source device, the HDM2-PROWALL-T4K has 4 HDMI outputs. This unit can process the input signal pixel to pixel with a vivid, bright and crisp picture without resolution loss onto Full HD displays.
This unit is capable of [email protected] or 1080p with rotation, different presets, and custom layouts. The HDM2-PROWALL-T4K has its own control software for configuration of modes such as 1×3, 1×4, 2×2 and mosaic. The control software will also allow users to resize, position, zoom output video, choose a resolution, and adjust bezel correction. Besides the control software, the unit is controllable via front panel buttons, or its IR remote.
Now, if you wanted a more significant video wall, you can cascade this unit through software with multiple units to create a bigger video wall. For a larger videowall than a 2×2, the SPLIT-HDM2-T4K-4 is required to duplicate the source to be inputted into many HDM2-PROWALL-T4K units. Note, UHD [email protected] input resolution can only support 2×2 Mode, unless using multiple units.
From the back panel, it can accept both HDMI and DVI source inputs/outputs. The unit has an embedded scaler that converts signals from either DVI/HDMI source to match the native resolution of the monitors, flat panels, or connected projectors.
The HDM2-PROWALL-T4K works great for retail digital signage, education facilities, commercial applications like broadcasting, and even surveillance systems. In addition, it's one of the more compact units.
Gefen EXT-UHD600A-VWC-14
Up to bat is Gefen's EXT-UHD600A-VWC-14 video wall controller. This device can accept a single 4K60 4:4:4 HDMI source and send it to four equally-sized 1080p full HD displays. It can also create multiple display configurations using predefined row or column layouts. Also, a maximum of four displays installed vertically or horizontally with complete customization of how the input is cropped and outputted to each screen is conceivable.
The 4K Ultra HD Video Wall Controller's versatile bezel compensation ability can accommodate any display bezel width. The picture on each display can rotate in 90-degree increments, individually or simultaneously. For an impactful presentation, analog audio can separate from the HDMI source to route to a sound system.
Control
The unit is controllable via front panel buttons, IR on the front or back, RS-232, and IP. The IR remote is convenient and includes the User Presets, Quad, and Full-screen buttons. Also, you can access the unit's easy-to-use Graphical User Interface for simple system configuration. Gefen's Syner-G Software Suite is a free downloadable application providing useful tools, including automatic download and installation of firmware upgrades for the EXT-UHD600A-VWC-14.
A quick look at the back panel, we're able to see that the EXT-UHD600A-VWC-14 has an interlock for HDMI cables for secure connections. Also, there's an Ethernet port for connecting CAT-5 cables or better to a LAN to use IP control. The Analog L/R Audio Breakout, IR extender, and the Syner-G port for field-upgradeable firmware are found in the back panel. The unit is 1U tall and can easily mount in a standard 19-inch wide rack.
The Gefen EXT-UHD600A-VWC-14 Video Wall Controller operates quietly. It's the perfect solution for entertainment, digital signage, retail, nightclubs, trade shows and any venue requiring a high-quality 4K picture.
Shinybow SB-3403
The 3rd video wall controller that ranks up in our list is the Shinybow SB-3403. The SB-3403 is a dynamic device with next level video wall configurations. Coupling predefined playback modes, friendly OSD operation, and unlimited cascades, it can produce all sets of playback modes for regular, portrait and unique video walls with various sizes, bezels, and resolutions at any angle and location without a PC or software.
The view of the SB-3403 front panel is quite different from the rest of the pack. Instead of buttons to press, there are dip switches to control the main functions of the unit. The first set of dip switches manages the main input selection, the second set controls PIP input selection. The third set is for bezel settings, the fourth is the PIP/POP settings, while the last set is for display profile selection. An important note is after finishing the dip switch settings, it's imperative to power Off and On the unit again to execute the new settings.
Picture In Picture
The remote that comes with the unit includes many intuitive buttons and functions to allow the user to manipulate what shows up on the video wall. A feature we were very impressed with is the SB-3403's PIP/POP (Picture in Picture / Picture on Picture) feature. From the remote control, the user can create a video wall while using the PIP/POP feature to overlay another source including DVI, VGA, HDMI, and DisplayPort devices. This is great for anyone watching and working on their laptop or for simultaneous viewing of two different channels. Also, the remote allows the user to move, scale, and resize the PIP/POP to any quadrant depending on the mode they are in.
The SB-3403 is a versatile device with an HDMI input plus loop out, DVI, VGA, and DisplayPort. Of course, there are four HDMI outputs for 4 displays. Multiple SB-3403's can cascade up to 15×15, allowing users to build a large-scale high-resolution video wall. Also, users can use the PIP/PoP function to add more display content in each display zone for large video walls.
Standard TVs and monitors can be useful display devices, allowing users to benefit from its ease-of-use and flexibility. The SB-3403 is a pure hardware standalone system. It can connect with various video sources and provide a reliable and straightforward solution for professional creative video walls.
Key Digital KD-VW4x4Pro
Last, but certainly not least is Key Digital's KD-VW4x4Pro. The KD-VW4x4Pro stands on its own with its video wall processing and seamless presentation matrix switching capabilities. The unit features 8 video wall modes and is packed with advanced features.
4×4 Matrix Switcher
Let's start with the KD-VW4x4Pro's HDMI matrix switching capability. We created a short film to breakdown how an HDMI matrix switch works. The unit can take 4 HDMI/Analog source devices to 4 HDMI outputs. The user can control each source independently to any display when in matrix mode. Additionally, seamless switching offers uninterrupted screen transitions during source selections. This is a dynamic feature, especially in retail or commercial spaces in need of a powerful device that can control multiple source devices on large screens for people to see.
The KD-VW4x4Pro can transform consumer and professional TVs into a video wall with 8 different modes. Horizontal (1×4 Rotated, 1×4, 1×3, and two sets of 1×2), vertical (4×1, 3×1, and two sets of 2×1) and full-screen 2×2. The unit allows fluid screen transition by removing pixels from the top, bottom, left, and right border independently using its bezel control feature. Users are also able to flip the picture, which is great for consumer TVs that have thick bottom bezels. This is critical for a clean looking video wall. It allows users to keep the narrow sides together to form a beautiful image with TVs that have thicker bottom bezels.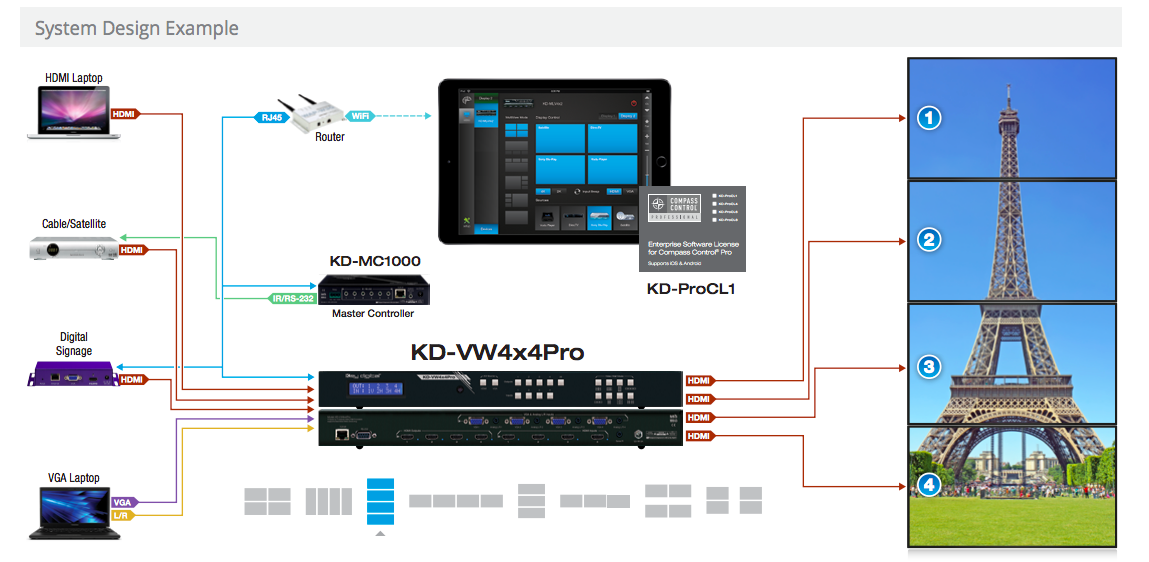 Key Digital's KD-VW4x4Pro is controllable via the front panel buttons, Serial and Optical IR, RS-232, and IP. It is also compatible with Key Digital's Compass Control while supporting the big name 3rd party control systems such as AMX®, Control4®, Crestron®, KNX®, RTI®, Savant, URC®, Leviton®, etc. Combine all this with the KD-VW4x4Pro's video wall and seamless matrix switching capabilities, and we get a powerful, yet flexible device that can create many configurations. The KD-VW4x4Pro is ideal for digital signage, retail, commercial, or any setting requiring you to create a live screen. Retaining a professional look with low-cost monitors and different size bezels has never been more simple.
Takeaway
The products mentioned above all offer eye-catching and engaging video wall displays. When video walls were first introduced in the '80s, the cost of video walls limited their use to a few environments. Today, modern video wall technology is far more advanced and cost-efficient. They are ideal for digital signage, control rooms, command centers, art installations, airports, hospitals, museums, live events, and any venue looking to deliver ads or messages quickly and effectively. Video walls are also useful in providing critical safety and directional information in the case of an emergency. The value of communicating important messages to many people makes them ideal for many industries and large venues. All the products above are currently available on our online store, bzbexpress.com.