The emergence of AV over IP is evident in the industry by how manufacturers have embraced the technology and made it their own. Atlona exemplifies this with OmniStream AV over IP. OmniStream is a scalable, flexible, and cost-efficient AV distribution system for homes, meeting rooms, retail, corporations, and enterprise environments.
On the latest episode of BZBtv, our guys install and demo five brand AV over IP solutions, in particular the OmniStream AV over IP platform. You can watch the video below.
Installing and demonstrating the OmniStream AV over IP platform gave our team insight, but there are other components that make the system a comprehensive solution. Let's explore further and take a closer look at the complete OmniStream platform by Atlona.
OmniStream AV over IP
OmniStream AV over IP delivers the dependability and performance of traditional AV distribution. In addition, OmniStream offers unlimited scalability and cost efficiency of integrating over data networks. Atlona's AVoIP system comprises of OmniStream Pro, OmniStream R-Type, OmniStream Audio, OmniStream USB and Velocity IP-based control.  
OmniStream Pro
The OmniStream Pro series design is for the most demanding, mission-critical applications where system reliability, performance, and scalability cannot be compromised. Environments including conference rooms, auditoriums, divisible rooms, or any space requiring large-scale AV distribution is ideal for OmniStream Pro.
The OmniStream Pro platform consists of a Single-Channel Networked AV Encoder (AT-OMNI-111), Dual-Channel Networked AV Encoder (AT-OMNI-112), Single-Channel Networked AV Decoder (AT-OMNI-121), and Dual-Channel Networked AV Decoder (AT-OMNI-122). OmniStream Pro addresses the image quality you seek from baseband video, applying high performance, visually lossless compression. The platform's codec is optimized for pristine, highly detailed graphics imagery, as well as 4K HDR video content.
OmniStream R-Type
The OmniStream R-Type on the other hand, addresses residential and various commercial AV distribution environments. The R-Type Series is compiled of Dual-Channel Networked AV Encoder (AT-OMNI-512) and a Single-Channel Networked AV Decoder (AT-OMNI-521). R-Type is ideal for flexible, reliable 4K HDR over IP distribution for professional and whole-house installations. Environments such as bars, restaurants, homes, digital signage, and establishments requiring video walls are excellent for the OmniStream R-Type system.
OmniStream Audio
OmniStream by Atlona also addresses sound with OmniStream Audio, supporting seamless audio over IP integration via AES67 and Dante™. OmniStream Pro and R-Type coders stream audio to OmniStream Audio devices using AES67, a standard that also enables interoperability with third party AES67-capable products.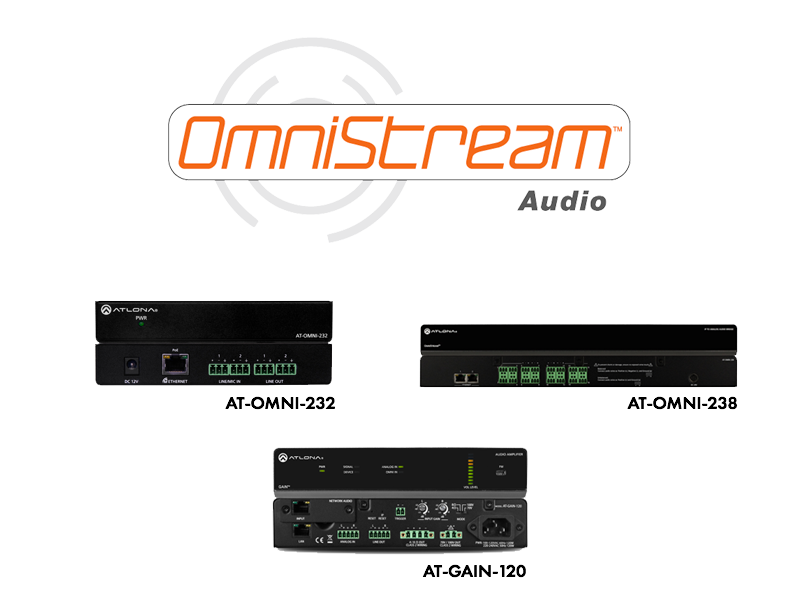 The OmniStream Audio family comprises of a two-input, two-output IP / Analog Audio Bridge (AT-OMNI-232), an eight-output IP to Analog Audio Bridge (AT-OMNI-238), and a stereo / mono audio power amp (AT-GAIN-120). The OmniStream Audio family are Dante™-capable. Audinate Dante is the AV industry's most used audio over IP technology. It allows integration of microphones and other Dante-equipped devices including DSPs.
OmniStream USB
Furthermore, OmniStream USB integrates USB devices over IP; peripherals including cameras, speakerphones, and touch displays. OmniStream USB coders form the foundation for an all-IP based meeting space that supports soft codec conferencing and interactive displays. OmniStream USB devices simplify integration of BYOD laptops into conference room audio systems, while also allowing the use of newer touch-enabled displays and cameras.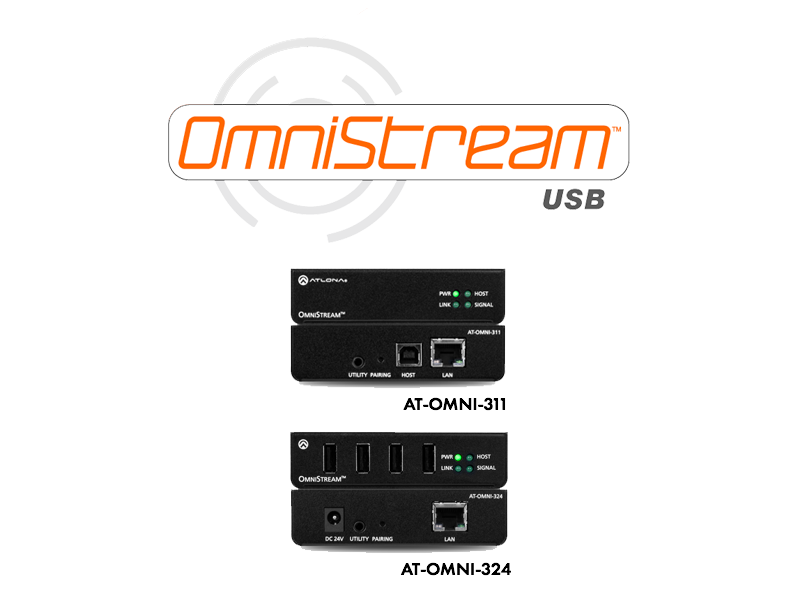 The OmniStream USB family consists of USB to IP adapter for host device (AT-OMNI-311) as well as an IP to USB adapter for peripheral devices (AT-OMNI-324). These units allow the user to integrate, route, and extend USB from PCs and peripherals over IP networks. Your meeting room AV system designs will feel complete by incorporating USB peripherals for video conferencing, audio integration, and more.
Velocity
Velocity™ by Atlona introduces a new approach to AV control, making it faster and easier. Furthermore, Velocity is a cost-effective control system which caters to commercial type spaces. Velocity features an innovative IP system architecture that produces unprecedented scalability and continuous reliability, as well as a powerful cloud resource for managing multiple clients and site installations.
The OmniStream AV over IP solution is very simple to integrate and manage. Whether the install is for a small collaboration space or an entire campus, the instructions are straightforward backed by exceptional Atlona support. A powerful, yet intuitive network resource with a web-based GUI allows configuration over a virtual AV network – similar to a traditional AV matrix switcher. Post-integration, managing your OmniStream systems is a straightforward with centralized firmware updating, automated monitoring, and much more. OmniStream by Atlona is a complete AV over IP solution and is available in the BZB Express catalog.