AVPro Edge is introducing an exciting 4K Multi-Viewer and presentation matrix that will change the way we connect. The AC-MXMV122-UHD Video Flux has an astounding 16 available input options including VGA, composite, component, and HDMI. With these options, the possibilities are endless.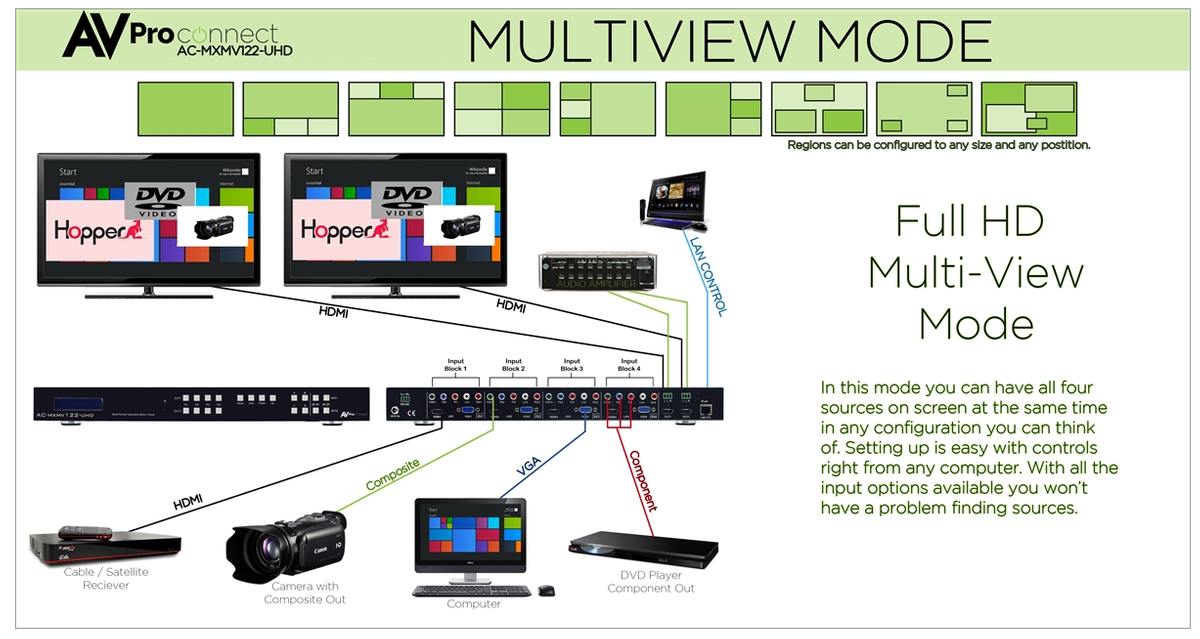 Three Main Modes of Operation
Multi-format seamless matrix

4K UHD quad video processor

Full HD multi-view mode
As a multi-format seamless matrix, the unit switches seamlessly among any of the four input groups without delay. Each group set as a preset input.
When using the product as a 4K UHD Quad Video Processor, you are able to have a quad view on two displays simultaneously. The HDMI output will include four full HD signals. The four full HD signals are presented pixel for pixel on the 4K screen without any downscaling or degradation.
Lastly, when the unit is set as a full HD Multi-View matrix, it becomes a 12 x 2 multi-format presentation matrix switcher. Our guys from "The Hive" from our YouTube channel, BZBtv unbox and preview the unit's features. 
Create
With all these features, virtually any combination/layout can be generated.  The unit is a powerful Video Graphics Processor with low power consumption, less than 20W.  Each Multi-View window parameter is customize-able Features such as layer priority, window size, window positions, border color, background transparency and border pixel width gives the user many options. You can dream up any layout with POP, multi-view, custom borders and transparency at your disposal. Users can layer the way they like with the quadrant being any size and position.
Cascade
Advances users working on a more complicated project can easily cascade and daisy-chain to build large and simple to control seamless switching or Multi-View system atmospheres of any size.
Applications
The AVPro Edge AC-MXMV122-UHD will work wonders in various environments. A home or video gaming space that is looking for a seamless switcher to switch between multiple sources. Medical facilities that need a multiview point to point training space or even classrooms with legacy & digital equipment. Security rooms that need to view four cameras or transportation management systems for monitoring camera feeds in HD.
Endless possibilities are achievable with the AC-MXMV122-UHD Video Flux 4K Multi-Viewer and Presentation Matrix. It is the ideal solution for high-end home installations as well as being the ultimate presentation switch for classrooms, boardrooms and training environments. The unit is currently available at our online store, BZB Express.